Leatherfest V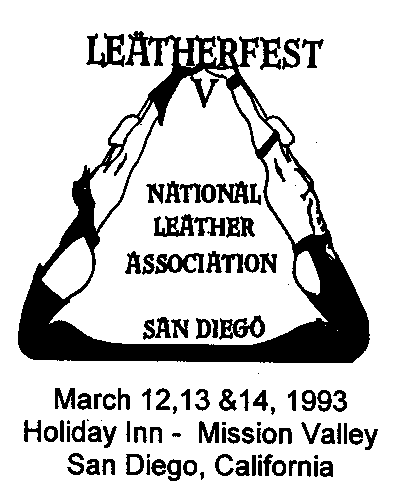 LEATHERFEST V Donates $6,082 to SPECIAL DELIVERY San Diego
[Reprinted from NLA/SD April 1993 Chainlink]
The San Diego Chapter of the National Leather Association announces that the proceeds from this year's record-breaking LEATHERFEST V of $6,082 have been donated to SPECIAL DELIVERY San Diego -- an all-volunteer organization which delivers 150 meals a day to person with AIDS.
lEATHERFEST V was held March 12-14 and broke all previous records for attendance at 512 -- more than double that of last year.
The weekend was filled with excitement and anticipation as registrants from all over California as well as Arizona, New Mexico, Florida, Pennsylvania, Texas and Washington converged on the Holiday Inn Mission Valley to sample the educational workshops and demonstrations such as "Branding", "Flogging", "Piercing", "Women in S/M", "Bondage", "Metal Restraints", "Negotiating the Scene", and many more. Leaders included Fakir Musafar, Cleo Dubois, and Blair (Int'l Ms Leather '92) from San Francisco; Brian Dawson (Mr. DRUMMER '89), Race Bannon (Author of the new book "Learning the Ropes"), Bert Herrman, Jeff Burnam, and Emerson Briney (Mr. Int'l DRUMMER '93) from Southern California; and Robert "SPUD" Krieble, Kim S and Daniel Leach from San Diego.
The interest from the media this year was greatly heightened after two different columnists in THE SAN DIEGO UNION-TRIBUNE made reference to the upcoming events. Several local radio and television stations talked both humorously and hysterically about the event, and the publicity brought many additional calls to the toll-free 800 number, set up earlier this year to receive inquiries. Some local groups indicated plans to protest the event at the hotel. San Diego's Channel 10 News mentioned that the event's proceeds were to be directed to SPECIAL DELIVERY San Diego. No protests actually took place at any time during the weekend.
The Awards Banquet was a highlight of the weekend, with the announcement of the annual Sentinel Awards given to individuals, businesses, or organizations which have contributed the most to the Leather Community in the past year. Awards were given to John Keasler, Rena Davis, Richard Reynolds, Robert "SPUD" Krieble and the bar WOLFS. The new NLA/SD Board was introduced: John Keasler, President; Richard Iglehart, Vice-President; Robert "SPUD" Krieble, Secretary; Richard Reynolds, Treasurer; and Members-at-Large Rena Davis, Kim S, and Bryan Bodiford. The banquet also featured drawings for many fine prizes donated by vendors, local merchants and Corporate Sponsors.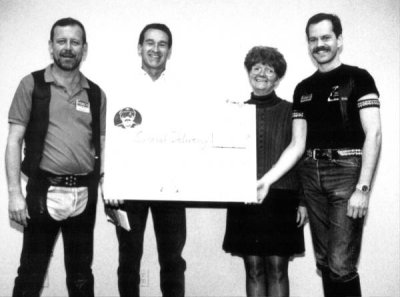 ---
Held at Holiday Inn Mission Valley, March 12-14, 1993.
This was the first Leatherfest to include a Dungeon Play Party (Dungeonfest) with 128 attending.

512 in attendance (more than double that of last year). Raised $6,082 in proceeds to benefit Special Delivery / San Diego
Leatherfest V Planning Committees:
Chairperson: Bob Goldfarb
Secretary/Treasurer: Richard Reynolds
Vendors: John Keasler
Workshops/Demonstrations: David Holding, Kim S, Galadriel, Doug Beck
Registration/Publicity: Richard Reynolds, Richard Iglehart, Spud, Bear, Doug Beck, Galadriel
Program: Spud, Bear, John Keasler
Security: David Holding
Logo: Bernard Watkins, John Keasler
Women's Outreach: Galadriel, Kim S
Hospitality: Bob Goldfarb, Bryan Bodiford
Leather Sentinels: Richard Iglehart
ASL Interpreters: Bear, Spud
Play Party: Bernard Watkins, Kim S, Madoc, Bear

Workshop Topics:
Fire - Emerson Briny
Flogging & Flogging Critique - Brian Dawson
Shaving - Spud
The Kiss of Fire: The ABC's of Branding - Fakir Musafar
Fisting: Bert Herrman
Body Piercing: Past, Present and Erotic - Fakir Musafar
Temporary Piercing - Kelly Thibault
Metal Restraints - Jeff Burnham
Negotiating the Scene - Cleo Dubois
Women in S/M - Kim S
Catheters - Daniel Leach
Caning - Kate Murray


Sentinel Awards: John Keasler, Rena Davis, Richard Reynolds, Robert "SPUD" Krieble and the bar WOLFS.