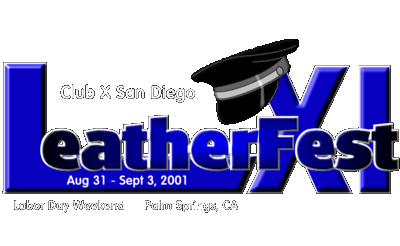 Leatherfest XI
LeatherFest XI is held at the Riviera Resort and Racquet Club in Palm Springs over Labor Day Weekend. – Sentinal Awards: Organization of the Year: The National Coalition for Sexual Freedom, Business of the Year: Mr. James Compton, Border Enterprises (and awarded lifetime membership), Male Volunteer of the Year: Mr. Madoc Pope, Female Volunteer of the Year: Miss Terry Bishop. Richard Reynolds Awards: Wendy Sue B. and Sue Byrd. Special Award for serving as Executive Directors of Leatherfest XI: Mr. Jake Lee, Mr. Merlin Gross, Ms. Michelle Zornes. Though the event was successful for the attendees, the required number of paid hotel room reservations was not met incurring a large debt for the event.

FOR IMMEDIATE RELEASE:


CONTACT:
Richard Chatterton
President, Club X San Diego Inc.
info@clubxsd.org
president@clubxsd.org
http://www.clubxsd.org

A message from the President:
Club X - Leatherfest XI Summary
December 03, 2001

To all Club X Members, Leatherfest XI Attendees and Friends:

Leatherfest XI (LFXI) marked the first major Leather Event for Club X since the San Diego Six (SD6) incident in October 1999. The last Leatherfest hosted by Club X was in April of 1998. As stated during the opening remarks of LFXI, "Leatherfest has moved from a 4-level parking garage to a 4-star resort."

With a staff of over 30 volunteers, the LFXI took well over a year to plan. The staff of LFXI produced an awesome event that the Leather/ BDSM/ Fetish community comes to expect of Club X and of Leatherfest. All who attended LFXI had an excellent time. Leatherfest XI marked the return of Leatherfest, the return of Club X, and that we were back, and back in style!

Leatherfest XI was held at the Riviera Resort and Racquet Club in Palm Springs over Labor Day Weekend. The event was very well received by all attendees. There were over 50 remarkable workshops to attend, a huge and well stocked vendor area, a fantastic pool & Jacuzzi area, a relaxing resort, the first ever Boy and Girl Training Academy conducted at Leatherfest, and to top it off, the biggest dungeon ever seen with Leatherfest at over 27,000 square feet.

The only thing that Leatherfest XI did not have was plenty of attendees.

In order to insure that Leatherfest XI had exclusive use of the entire resort, LFXI signed into contract a guarantee sale of rooms at the resort. There were over six hundred people that attended Leatherfest XI; however, the attendance was not enough to cover the costs of holding the event and the number of attendees staying at the Riviera was not enough to book the resort per the contract.

Leatherfest XI is now contractually obligated to pay the Riviera Resort the difference of the "lost" revenue between the actual number of rooms booked and the number contractually specified. The difference works out to approximately twenty seven thousand dollars ($26,700 exactly.) Added to that, are extra bills that Leatherfest XI incurred in setting up the event. The total still owed by Leatherfest XI is approximately $30,000.

A hundred more attendees at Leatherfest XI would have booked enough rooms and enough registrations that Leatherfest XI would not be facing a $30K shortfall.

The debt LFXI incurred is a large amount. It is far in excess of the annual operating budget of Club X, the parent organization of Leatherfest. While Leatherfest XI itself was a success and met all of its operational bills and expenses, the debt does remain. While thanking the Leatherfest XI Directors, staff, and volunteers, the Board of Directors of Club X, have now stepped forward to resolve the debt burden and clear the way for the planning of Leatherfest XII.

All in all, LFXI was a huge success. It was perhaps the best Leather/ BDSM/ Fetish event of the year. Leatherfest XI, and Club X have been nominated for Pantheon Awards for Large Event of the Year and Large Club of the Year.

This is not bad for an event that has not seen the light of day for nearly three years. The event moved from San Diego to Palm Springs, changed the time of year it was held from early spring to late summer - and had the misfortune to occur just as the US economy hit its first recession in almost a decade.

Resolving the debt with the resort is the last of various issues to deal with before moving on towards Leatherfest XII. LeatherfestXII WILL take place, we just have to wrap up Leatherfest XI first.

In the coming weeks, Club X will be doing what we can to resolve the debt with the Riviera Resort. We will keep you informed of our progress via our website and press releases. We welcome your inquiries and will certainly be looking at fund raising options. We just completed a fantastic, "Fall Leatherfestival" that had over 120 attendees.

Club X will carry on, Leatherfest XII will happen, and we will continue to have safe, sane and consensual fun. Club X and Leatherfest are not going away.

With pride,

Richard Chatterton
President,
Club X San Diego, Inc.
---
* Presented the 2001-2001 Sentinal and Richard Reynolds Awards during Leatherfest XI!

Organization of the Year: The National Coalition for Sexual Freedom
Business of the Year: Mr. James Compton, Border Enterprises
Male Volunteer of the Year: Mr. Madoc Pope
Female Volunteer of the Year: Miss Terry Bishop
Mr. Jake Lee, Mr. Merlin Gross, and Ms. Michelle Zornes as Executive Directors of Leatherfest XI
Wendy Sue B. and Sue Byrd with the Richard Reynolds Award

Leatherfest 2001 deemed a success,
despite ongoing diversity controversy
by Catherine Padilla
Leatherfest XI was held Labor Day weekend, August 31 to September 3 at the Palm Springs Riveria Resort and Racquet Club.
Leatherfest is a San Diego-originated leather event, which offers BDSM/fetish education, set up much like a conference. There are educational workshops, entertainment, dungeon space for BDSM play, and lots of networking. Although closely associated with Club X, San Diego's largest pansexual BDSM organization, they are separate entities. However, board members of Club X have often served on the board of Leatherfest. Such was the case with this year's Co-Executive Director Jake Lee.
Leatherfest XI had been anticipated since 1999, and seemed to hold the promise of turning over a new leaf for the event's reputation, according to sources. Since 1998, mishaps involving law enforcement, the fire department, and a lack of venues willing to book Leatherfest caused the event to be postponed until this year.
One of the most well publicized controversies over the past few years has been regarding the content and inclusion of people of color within the workshops and Leatherfest organization. Though this problem clouded past events, few were quick to point out the minimal representation of people of color three years following the controversy at Leatherfest X.
The controversy began at the previous Leatherfest X event, when a scheduled panel discussion specifically for people of color had been cancelled. This cancellation caused an uproar in the community.
Zak Topor, a former ClubX board member, and "Elaine" were two of the most vocal advocates for people of color during that year's Leatherfest.
As stated in his February 18, 1998 installation of "Leather Rap," Topor wrote: "When I hear that an organization like Leatherfest decided to simply not have their ONE [workshop] that targeted people of color, I was appalled."
The controversy spread and gained the attention of several notable gay leathermen, who authored national leather journals, newsletters and columns. The call was to boycott Leatherfest X on behalf of people of color.
Leatherfest X then decided to add a "Diversity workshop" and a "Diversity Closure Reception" not specifically set up to address the issues of race and culture, but to be inclusive of physical challenges and gender issues.
This does not appear to be the case. According to their own website, Leatherfest XI offered 50 plus workshops dealing with everything from genital modification, to S/M etiquette, but offered no workshops dealing directly and specifically with the issues facing people of color.
Elaine, an African American leather woman told the Gay and Lesbian Times that the current Leatherfest board had attempted to ban her from the event, possibly because of her advocacy role. However, she said that the motion to remove her from the event never reached a vote.
She said, "The VP of Club X… stated he forewarned and advised them (Board members) that if they attempted to enforce or act this out; it would definitely come back to bite them on their ass later. Two board members immediately stated they would not be a part of any group who sought to ban or bar someone from participating."
She added "(Leatherfest) strives to remain as a WASP organization. … It appears that they utterly refuse to reach out to minorities."
Attempts to reach Jake Lee for comment were not return. Jaynee, a leather woman of many years who asked that her name be omitted out of fear of retribution, has been involved with Leatherfest since the second event.
"If you look at the Leatherfest XI web site they have all of their staff and presenters listed by name and photo. I know these people, and I would guess that out of the 31 workshop presenters shown, only one, maybe two appear to be people of color. Out of the 29 staff pictured, only one appears to be a person of color," she said.
"The city of San Diego, even the San Diego leather community, is very culturally diverse. The amount of people of color represented in staff and in presenters is disproportionate to the population. I'm sure they had volunteers who were people of color, but there's a big difference between being a volunteer and being asked to present or to sit as staff in the more important positions," noted Jaynee.
When asked to answer to these concerns, co-Executive Director Michelle Zornes declined an interview, but stated via email, "I am a person of color as I am of Hispanic descent. The Registration [co] Coordinator is also of Hispanic descent ... Let me be very clear. ANY person is welcomed to step up and volunteer for Leatherfest."
Many believe that due to the call to boycott, Leatherfest X was not heavily attended by gay men. In contrast, this year's Leatherfest XI boasted its highest attendance of gay Leathermen to date.
According to "Papa" Tony Lindsey, in his recently published Internet newsletter for gay leathermen: "From a gay male standpoint:, the last few Leatherfests didn't have many gay guys amidst the pansexual crowd, and I sure missed 'em... This time around there were scads of gay leathermen attending, and I think maybe about 10 percent of 'em didn't feel comfortable."
Overall, many believe that Leatherfest XI was the beginning of a new era. This year's location was reported to be very private and one of the nicest ever used.
One participant, Arielle W. stated, "It was a wonderful leather event, very well organized and the location in Palm Springs was superb."
Most attendees that were willing to comment stated that they had a very good time and would support Leatherfest again next year. This sentiment was reflected in presenters as well as demonstrated by the comments of Master Steve Sampson, Master/slave 2000 and staff member of the Boy/Girl Training Academy: "The boys and girls Training Academy touched my heart and spirit. It was a wonderful event and I am pleased to have been a part of it."
Although Leatherfest was unable to sell out the entire hotel and didn't draw the kind of numbers they had anticipated, it seems that overall, people found it to be a success.
Some involved in the leather community said they were optimistic that the organization would continue to improve its reputation and that there was room for improvement.
"The potential of Leatherfest has yet to be realized…" stated "Lesley" a presenter at both Leatherfest IX and X and a former Club X board member, . …."It's hard to get beyond past mistakes. The first step is to stop repeating them. All people have the right to be represented, especially within a community that preaches tolerance of diversity."

Reprinted with permission from
Southern Californa Gay & Lesbian Times